When: 7 and 8 September 2012, 9.45 am – 12.00 pm
Where: Library
Who: Older children and adults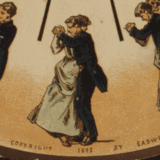 As part of the St Annes Music and  Arts Festival, the Library is holding two dance workshops on Friday 7  September and Saturday 8 September, at 9.45 am to 12.00 pm.
The  workshops will be led by dance artist Anna Daly and are described  as "an eclectic mix of learning and creating dance, inspired by literature,  music and the garden".
The workshops are free of charge but places are  limited. To reserve your place please call Paula on 01253 720191.