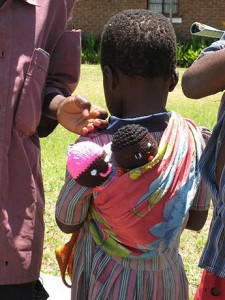 When: 1st and 3rd Friday of each month, 10.00 am to 12.00 pm.
Where: Library
Who: Both novice and experienced knitters are welcome
If you enjoy knitting and nattering why not come and join the Knit Together group; or maybe you need a bit of emotional support when it comes to decreasing, increasing or turning a heel!
As well as doing their own knitting, members of the group also undertake various charitable projects. These have included knitting soft woollen toys, called 'Izzy' dolls, for children who are victims of war, HIV babies, orphans and those who suffer from plain want. Another project saw the group knitting miniature bobble hats for Age UK, who forwarded them to a juice company for their Christmas promotion. The company paid Age UK for their efforts.